Brand Storytelling: Put Customers at the Heart of Your Brand Story
by Miri Rodriguez
Brand Storytelling provides an illuminating guide on how to turn vulnerability, empathy, and emotion into a compelling and unforgettable brand story that will capture your audience's hearts. It offers useful tips on how to elevate your brand storytelling and impress your audience at every stage of the customer journey by using user experience principles, immersive storytelling, and evoking emotion.
Summary Notes
Brand Storytelling: What is it?
"Storytelling for branding takes you beyond the coherence of the why for 'once upon a time' and meticulously spells out the how through poignant storytelling design thinking principles and growth mindset techniques that will enable you to pierce through ancient traditional marketing ideals and fast track you to emerge as an innovation leader in your own space."
A compelling brand story captivates the heart of your consumers, helping you connect and remain connected to them on a human level. The story behind a brand is important because consumers make purchases based on emotion and then rationalize them later. Storytelling combines information and emotion, allowing consumers to digest and remember brand content better, thus increasing your chances of converting them into customers.
In the consumer's mind, every point of connection your brand has with the consumer is related to your brand's story. You can maintain a customer's loyalty by ensuring your brand story is cohesive, intentional, and compelling.
To have a powerful brand story, you must establish your brand mission first. Your brand mission is the overarching theme of your brand story, which must be aligned with all the rest of your brand storytelling.
Your brand's mission statement imparts meaning beyond the products and services you provide. It states why your brand exists and communicates its core values.
Where Do You Start?
"Storytelling with design thinking principles is an art as much as a science, and a good storyteller will diligently continue to iterate the brand story, recognizing that the act of perfecting it never really ends."
The structure is the foundation of the story. You can build a solid structure by applying design thinking concepts to how you express your brand's story.
To do this, you must first gain an empathic understanding of your target audience to deliver a story that will evoke an emotional response. Empathy begins with understanding the needs your brand fulfills for the customer and the feelings your brand story evokes.
Next, you should focus on defining the characters and plot of your brand story before coming up with story concepts that will help build the next steps in the story structure. The more story concepts you can develop for your brand story, the better.
The final step in building your brand story structure is experimentation: prototyping, followed by testing. A prototype is a low-cost, low-resolution idea in motion. By prototyping, you can determine what works, what doesn't, and why. This stage allows you to bring your ideas to life without spending too much time or money.
In the testing phase, your entire brand story is presented to your audience. Essentially, it will be a soft launch where you can see what resonates with your audience in a larger setting. A major advantage of this stage is that you can go back to your other concepts or even initiate a new brainstorming session to come up with new ideas if the story does not end well.
The Magic (And Magic Tricks) In Storytelling
"Going from great to magical is another level of designing a narrative. It's the difference between becoming a storyteller and becoming a master storyteller."
Everything about marketing has changed with the advent of the digital age, with platforms, solutions, and customer demands for experiences beyond words. Immersive experiences are not only sought but demanded by customers at every touchpoint along their journey with a brand.
An effective user experience-designed story anticipates how the user will interact with it so that all structure elements (story mission, character, plot, conclusion, universal truth) come to life.
When you make it your mission to improve your brand story, you go the extra mile to ensure it consistently provides an optimal experience to those who encounter it, especially your audience. The four core principles of user experience—-usability, usefulness, emotional impact, and meaningfulness must be applied to achieve this.
There are four magic tricks you'll need to apply to ensure your brand story becomes unforgettable and enchanting.
Firstly, you must find the right setting for your story. To do this, you have to consider the different landscapes and ways it may unfold according to what is going on in the market, with the customer, and with technology.
Secondly, you have to make sure that the visual elements of your brand, such as color, typography, and photography, make your brand story meaningful. These visual elements all play an important role in generating emotional responses in your audience.
Thirdly, make sure your brand assets tell your brand's story holistically and individually. Your logo, brand colors, typography, symbols, etc., should all be aligned with the story your brand is trying to convey.
Lastly, leave your brand story inconclusive. This is important because the audience can form their own opinions, making them more interested and leaving them wanting more. Moreover, it also allows your company to be a living, breathing entity that can grow and expand without being completely static
Building an Integrated Marketing Plan With Story
"Allowing the brand character to evolve, to grow and transform within the brand story is the most compelling part of integrated marketing because it enables an authentic flow of the marketing plan to find its natural and distinctive competitive edge."
Storytelling for a brand requires an ongoing process from multiple angles, multiple places, and a modern narrative approach. Having the brand's story in place is crucial for telling the story consistently across multiple channels using various tools, activities, and processes.
As the brand's market position is diversified, a storytelling business model continuously evolves. Since the newer generations seek continuity in a brand, everything must adhere to the brand's established mission through all of the diversity.
Incorporating storytelling into an integrated marketing plan is different from one-off marketing campaigns. Here, the process begins internally before reaching out to consumers. By incorporating storytelling into your integrated marketing strategy, you are shedding the disparate 'ad-to-ad' and 'message-to-message' mentality inherent in traditional marketing. Instead, you'll focus on the brand theme and universal truth as the foundation for building internal and external relationships.
In other words, integrated marketing communications with storytelling represent a fundamental change in the brand's culture and way of doing business.
The Brand Story Hero: Putting Your Customers at the Heart of Your Brand Story
"Storytelling is an art as much as it is a science, and if you decide to make it part of your business blueprint, it can potentially transform everything about your brand, from your brand mission to its culture, to how you operate your business. That is if you take time to meticulously define the characters in your story in a way that will enable this transformation."
Today's most successful brands always feature their customers as the central character of their stories. This is because when your customer understands that your brand exists to make them better in some way and that you are positioning them to win in the long run, they become more inclined to win and begin to associate winning with your brand.
To successfully feature your customer as the hero, your internal stakeholders must get to know your customer intimately. You can achieve this by sharing customer insights with everyone in your company, enabling direct communication between internal and external audiences, and aligning employee priorities with customer success goals.
As you write your brand story, make sure to name your customer the hero, weave inclusion and empathy into it, introduce the hero to your audience and never let them forget it. Persistently tell the story repeatedly with the hero at the forefront until every potential customer feels compelled to try your product or service.
Remember that you are responsible as a storyteller to make your audience love your brand story by forever proclaiming the customer as its hero.
If Story Is Magic, Vulnerability Is the Magic Wand
"When it comes to brand storytelling, vulnerability is quite the opposite of powerlessness. It is a mighty force that bursts open emotional awareness. If the story is magic, vulnerability is the magic wand that unleashes genuine connection with our audiences."
Storytellers are tasked with carefully crafting a brand story, creating and delivering an integrated marketing communication plan, and injecting a bit of vulnerability to make everything as enchanting as possible.
Storytelling with vulnerability works because it profoundly reminds us of our humanity. Going beyond the point of view of an orator to their audience encourages us to transform ourselves into the audience, to meet them eye to eye. Here, we have the best opportunity to empathize with our audience.
It is always a consumer's desire to discover the human side of our brand, so utilizing vulnerability in storytelling allows just enough humanity and relatability to shine through, making our brands believable and trustworthy.
Creating a vulnerable brand story is just one aspect of becoming vulnerable in your storytelling. Our goal is to increase the variety and inclusiveness of the brand story from all those contributing to it regularly. In this regard, allowing employees to share their personal work-related stories from working inside the brand is important.
When you are vulnerable in your storytelling, it will be pleasantly surprising to see how your audience responds.
Ethics in Storytelling
"As marketing professionals, communicators, or just as humans, we must recognize the unscrupulous depths the art and science of storytelling can reach if ever left unchecked, and the fatal results a narrative's secret weapons can yield if drawn at the wrong place, wrong time or with the wrong audience."
Having an incredible brand story requires you also to ensure that your story is ethical and not manipulative. During the conceptual phase of storytelling, it is essential to proactively engage in conversations with as many leading internal stakeholders as possible to minimize ethical dilemmas.
While trying to evoke emotion within our audience through storytelling, we may find ourselves on shaky ground where the line between what is ethical and what is manipulative is not always clear. To ethically awaken our audience's emotions, we must always consider the criteria for evaluating our actions.
Thus, we must develop a code of ethics that is abided by and reviewed before story concepts are created to ensure that we remain aligned with our brand's core values and make consumers feel that our brand is trustworthy and authentic.
Immersive Storytelling
"Immersive storytelling takes the audience further than any 2D or 3D experience ever can, enabling a 'theory into practice' approach because it invites the audience's additional human senses to converge into the story."
Today, we're seeing a growing demand for customers' experiences to go beyond listening, reading, or watching. Instead of watching from the sidelines, the audience now wants to be part of the story. Platforms like virtual and augmented reality quickly integrate themselves into the customer experience, further driving customer demand for compelling, immersive experiences.
Immersive storytelling experiments with various environments, or story worlds, to give the audience the feeling of being part of the story. This, in turn, provides the story with an extra layer of authenticity and empathy, enhancing its likelihood of success exponentially. By incorporating immersive storytelling into their customer journey, brands can make an even greater impact on their audience.
Your Best Brand Storytellers: Employees and influencers
"Brands are recognizing the paramountcy of granting storyteller duties to the humans of the brand instead of the organization as a whole, and this is paying great dividends."
Social influencers and employee advocacy have always existed in some way or another as effective means of promoting brands, regardless of whether the organizations officially selected them or not. As social beings, humans are also innate storytellers. It is common for us to tell people in our circle about our mundane activities and the brands we engage with to make our day-to-day activities more enjoyable.
Similarly, celebrities, journalists, and industry experts have profoundly influenced purchase decisions by simply sharing their favorite fast food restaurant or fashion brand, and sometimes inadvertently so. In times of social media dominance, social influencers, celebrities, employees, and customers have become increasingly important to our brands because of their storytelling abilities and the likelihood of sharing what they like.
When it comes to building your brand story, employees and influencers fall under a single category: story personas. While there are clear differences between the two groups, they both can tell the brand story in the most authentic and relatable manner to the audience. Both employees and influencers will play an important role in telling your brand story and reaching your audience.
Defining your story persona in advance will allow you to maximize the resources you invest when selecting the best storytellers.
Marketing (And Actually Testing) Your Brand Story
"Testing your story concepts doesn't have to be a tedious or lengthy process. On the contrary, it can be an enjoyable and very insightful step in your storytelling design if you take the time to put the right parameters and processes in place."
When it comes to launching your story concepts, consistency is key. Brand assets, such as logos, social media channels, and marketing assets, should echo your brand story's universal truth. It should also convey the key emotions you identified for your audience early on.
Through consistency, your brand can generate up to 23% more revenue. It is imperative that your brand story concepts clearly reflect what your brand stands for and remains consistent.
The top indicator that your story concept is moving your audience in the way you intended is when the audience's natural emotional response to the story is exactly what you wanted from the start. A successful story provokes action. As soon as the story concept has moved your audience, expect them to engage with your brand and your brand storytellers enthusiastically. When the one thing you want your brand to be recognized for becomes synonymous with your brand, you've effectively marketed your brand story concept.
Benchmarking Your Brand Story
"Great stories stimulate senses, activate feelings, and unapologetically exhort the audience to do something. Anything."
It's challenging to measure the impact of storytelling since the story's main goal is to arouse emotion, which can be difficult to quantify. However, emotion, reaction, and lasting action are the three main indicators that can confirm whether your brand story is headed in the right direction.
The first indicator, emotion, is easily assessed by determining whether your story stirred up the emotion that you intended originally. The more often you tell your brand story, the more likely it will be heard by your audience and the more likely it will evoke their emotions.
When a brand story manages to evoke strong feelings in an audience, you can expect a sure automatic and unconscious reaction from the audience. Benchmarking indicators like time, engagement, and conversions can be applied to these reactions.
After the brand story captures the audience's heart and they fall in love with your brand, they will want to stay connected to it. A good indicator that your brand story is succeeding in the market and with all your stakeholders is when your audiences begin having an emotional association with the brand and brand story. Ultimately, this leads to consumers choosing to do business with you and not the competition. Cultural movement and thought leadership are the metrics by which lasting action can be measured.
Villains and Antagonists: The Bad Guys Who Want to Tear Down Your Brand Story
"Great stories stimulate senses, activate feelings, and unapologetically exhort the audience to do something. Anything."
There is no rule that says a hero needs to have a villain, but most storytelling experts agree that a good story must have a bad guy or anti-hero to create conflict - and tension tends to make a story more involving and satisfying.
When your brand story features a hero (your customer) and a sidekick (your brand), it makes sense to create obstacles and challenges for the hero to overcome in order to succeed. A hero and sidekick's struggle with a villain or antagonist adds an extra layer of empathy on the part of the audience. By experiencing opposing characters, the audience becomes more captivated by foreshadowing the outcome and story conclusion.
By bringing the level of evil or opposition to life through a protagonist's eyes, villains and antagonists give contextual meaning to a plot that no other character can. Within brand storytelling, villains can range from competitors to siloed internal systems and processes that undermine brand equity goals and unified brand communications. When it comes to your brand story's villains and antagonists, it's important to consider how much impact and opposition each character provides so you can decide if they should play a starring role in the narrative.
The Future of Brand Storytelling: How AI, Machine Learning and Automation Can Tell Only One Side of the Story
"...these heartless cyborgs will never own the empathy, vulnerability and ethics required to tell an authentic and emotional allegory."
AI and machine learning capabilities have the potential to outsmart us in many significant ways over a short period of time since machines are always awake and continuously working. Every single thing they do is to improve themselves at whatever craft they've been given.
However, machines don't possess the human heart. Machines may be able to tell compelling stories on paper. In some cases, these stories may be perfectly crafted, grammatically correct, and even contain some built-in algorithm for choosing vocabulary, punctuation marks, and stances to win market share. However, machines cannot and will not be able to speak effectively, with wisdom and empathy towards their human readers, drawing from their own lived experiences.
As we live and work in the modern world, we have gracefully incorporated AI companions into many tasks and aspects of our day-to-day lives. In addition, machines have already disrupted the marketing and communication industry by making it faster and more targeted in telling stories. Through the capabilities of machines together with our own intrinsic human powers, new brand stories can now be told in a way never seen before in the world.
Inspire Your Brand Story: Interviews With Leading Storytellers Around the World
"In the age of increased business competition, constant streams of advertisements, and social media feeds – people are suffering information overload, and fairly few messages are able to stick. Brands need to find better ways to cut through the noise to generate interest, engage their audience, and compel them to take action. This is where storytelling is critical."
Storytelling is more than just telling customers why your products or services are the best. Storytelling, in addition to complementing existing marketing initiatives, completes the whole picture. Stories have the ability to move, humanize, inform, and inspire people. Ensuring that your storytelling is authentic can make a great difference between a customer choosing your brand or your competitor's.
The relationship between the brand and the audience is essentially what the brand story is. Your brand's identity must constantly connect to its audience as the relationship develops, and it must remain relevant to that audience. To find your identity, you must actually identify who you are and what you stand for.
This entails looking beyond your service, product, and packaging. Identity is a defining characteristic amongst successful companies, with loyal followers and endures throughout time. If you can create an identity that your audience cares about and loves, you will have taken an important first step toward the larger goal of brand-audience alignment.
Don't just read. Act.
Read comprehensive summaries and discover carefully compiled action lists for active learning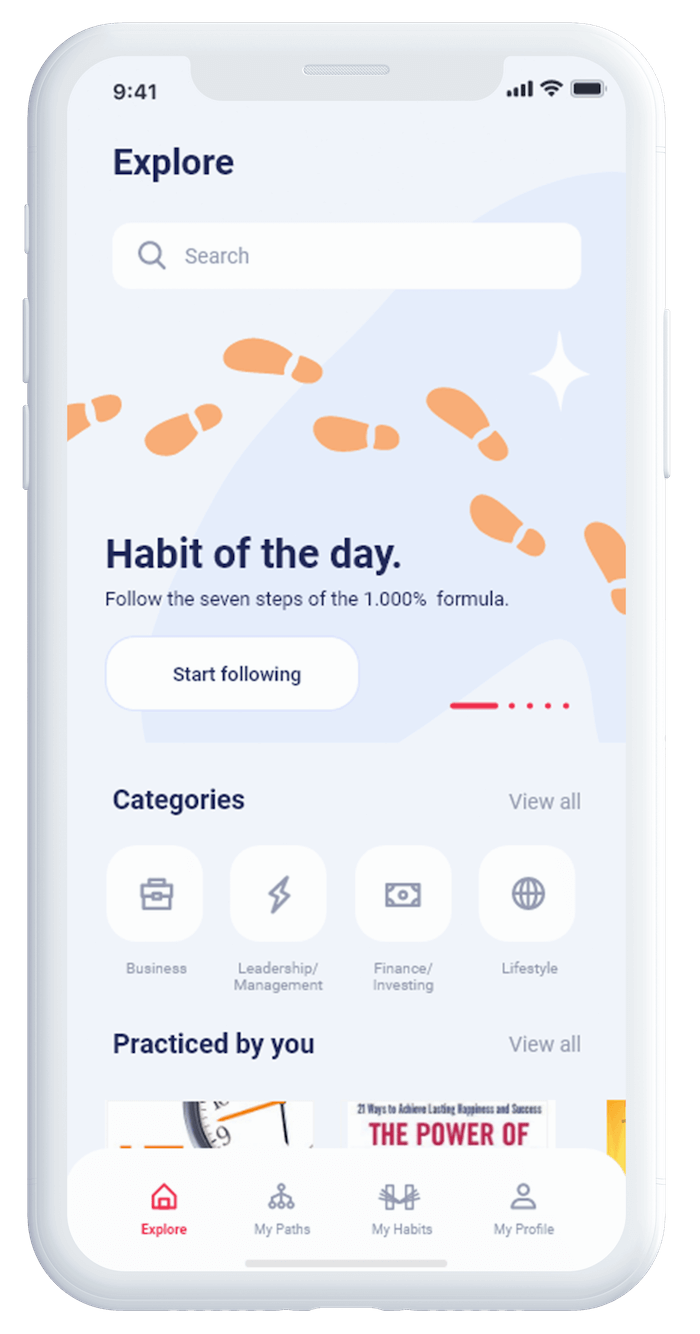 ---