What the Most Successful People Do Before Breakfast: A Short Guide to Making Over Your Mornings-and Life
by Laura Vanderkam
This book is a combination of three books that focus on how successful people start their days, arrange their weeks, prepare for successful task completion, and try to get as many results in a short time. It's a fun, comprehensive guide that will encourage you to reconsider your morning routine and start your day off positively and adequately, making your whole day much happier and more productive.
Summary Notes
Create a Morning Routine Like the Most Successful People
"As I've been talking with people about their mornings, the phrase I hear repeated is that "this is the time I have for myself."
A common misconception is that we don't have enough time for relaxed and positive mornings. However, the secret lies in our habits - if we choose to fill our mornings with good habits, they can be productive, structured, and enjoyable. 
Successful people use the early morning as a time when they have complete control over their lives because the rest of the day is somehow controlled by their obligations. These people develop their morning routines and incorporate some practices that enhance their overall well-being and happiness. Here are some examples: 
James Citrin, the North American Board, and CEO Practice Lead at executive recruitment firm Spencer Stuart work out before 6 am
Steve Reinemund, former Pepsi chairman and CEO, was up at 5:00 am and walking four miles on the treadmill.
Gretchen Rubin, the author of "The Happiness Project," rises at 6:00 am. to have an hour alone before the rest of her family.
Christopher Colvin, a Kramer Levin Naftalis & Frankel partner, frequently gets up at 5:30 am, walks the dog, and reads for work.
Judi Rosenthal, a New York-based financial planner and founder of the Bloom network of Ameriprise financial advisers, spends time with her daughter in the morning.
It doesn't matter what routine we do; it's important to use that early morning to do things that prepare us for a successful, productive, and fulfilled day. Here are the examples of good early morning habits: getting up before 6 am, exercising, meditating, and reflecting on the day's most important priorities.
Create Habits Like The Most Successful People
"Research has found that people who score high on measures of self-discipline tend not to employ this discipline when they do regular activities that would seem to require it, such as homework or getting to class or work on time. For successful people, these are no longer choices but habits."
We have the most willpower in the morning because willpower, like our muscles, can be spent. This is our only source of self-control, primarily used for everyday activities such as resisting instincts, controlling emotions and ideas, making decisions, dealing with noise and traffic jams, our children's requests, and so forth. 
As a result, we don't have much leftover by the end of a typical day. The good news is our willpower renews when we sleep, so in the morning, usually, around 6 am-9 am, we are most disciplined and motivated and ready for complex tasks.
Creating a quality routine needs self-discipline and willpower at first, but over time, we can attain results based on acquired habits and automatism rather than willpower. That's how the most successful people stick to their routines; they stay disciplined enough to form automatic habits.
Use Mornings Like The Most Successful People
"These are your highest-value activities: nurturing your career, nurturing your family beyond basic personal care, and nurturing yourself."
The most successful people use their mornings to nurture the three valuable elements of life: relationships, career, and themselves. They form their habits around these three things, which require our internal motivation in order to do something that truly fulfills us.
We should devote our mornings to meaningful family time because we don't have the energy or time in the evenings after a long day's work. Family breakfast is an excellent replacement for an evening meal when treated as a calm, entertaining occasion. Mornings may be a fantastic time to nurture our relationship with our spouse, children, and other family members.
We may also nurture our careers if we set up a specified period in the morning to focus solely on one activity and not let anything else interfere. Some successful people who do this are: 
Anthony Trollope, a novelist, who writes a few every morning;
Charlotte Walker, a history postdoc at the University of Chicago, who worked on her book between 6:00 and 9:00 a.m. every day and;
Steve Murphy, the CEO of Rodale, who set aside 90 minutes for yoga three days a week.
To create the opportunity for any success, we must practice self-care. The world's busiest and most successful people strictly respect their time for self-care; they exercise, meditate, or practice some hobby in the morning. 
One example is Julie Delkamiller, an assistant professor of special education, deaf education, and sign language interpreting at the University of Nebraska in Omaha, who practices jazzercise four to five days a week at 5:30 a.m. "Everyone else is sleeping, so I don't feel like I've missed out on anything 'important,'and yet I am taking care of myself, which has an amazing impact on my productivity throughout the day," she explained.
Follow A Five-Step System For Quality Mornings
"Part of spending your time better is knowing exactly how you're spending it now."
We can have the most incredible and productive mornings if we follow a five-step system. This involves: 
1. Tracking our time
Knowing exactly how we're spending our time will help us spend it better, and the best tool for that is tracking our activities. Sometimes we are very productive but nevertheless unsatisfied because we did not spend time on something aligned with our values. Thus, we should always re-examine our assumptions by answering, "What really needs to be done today and what does not?"
2. Imagining the perfect morning
After tracking our time and concluding how we spend most of it, we should ask ourselves, "What should our ideal morning look like?" It's best to include some wonderful habits such as painting, sketching, photography, scrapbooking, crafts, biking, swimming, etc.
3. Thinking through the logistics
After having a clear vision of our ideal morning, we should connect it with real life and devise how and when to perform what we have imagined.
4. Adopting the habit
The most crucial step is to build a habit, to turn our idea into action, and that requires a lot of willpower in the beginning, so it is necessary to go slowly and make small changes. We must also reward ourselves and celebrate our small victories.
5. Tuning as needed
Our lives are constantly changing, and it's natural to modify, reschedule or delay our mourning routine as needed.
Don't just read. Act.
Read comprehensive summaries and discover carefully compiled action lists for active learning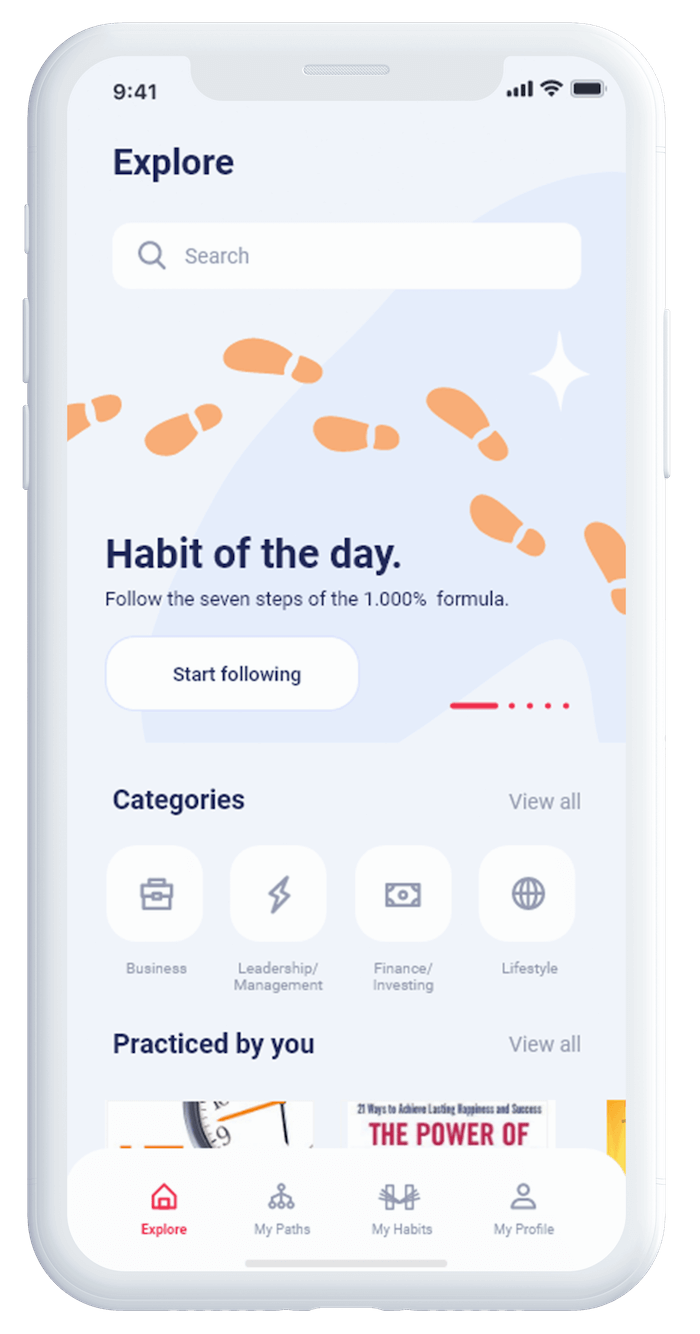 ---