Never Eat Alone: And Other Secrets to Success, One Relationship at a Time
by Keith Ferrazzi
In Never Eat Alone, the author takes you on a journey to unlock the power of relationships. The world of work has changed, and the security of your career now relies on the strength of your network. Drawing from his own experiences as an entrepreneur, the author shares the wisdom and strategies used by the world's most successful people. You'll learn how to expand your network, create a compelling personal brand, and achieve your goals - all while helping others around you do the same.
Summary Notes
Becoming a Member of the Club
"Relationships are all there is. Everything in the universe only exists because it is in relationship to everything else. Nothing exists in isolation."
Successful people help their friends and associates maximize their potential - and they rely on this network to bring their dreams to fruition too. Whether it's securing top jobs, receiving valuable advice, or gaining investment for their ideas, no one can achieve their goals alone.
To make the best of yourself both personally and professionally, you need to learn how to build relationships with people who will inspire, elevate, and support your success. And you need to become one of those people too.
Authentic relationships are a two-way street. Networking purely for the sake of personal gain doesn't lead to the type of enriching relationships that will truly nurture your long-term success. To cultivate mutually empowering connections, you need to approach others with the intention of adding value to their lives. In doing so, you enrich your own life, too.
It doesn't matter where you are in life right now. We all have something to teach or offer. Reflect on how you could provide your skills, knowledge, or time to help a person you admire. Create reciprocal relationships that enhance success, and you will learn and grow much more.
Many successful people and leaders attribute their success to having a mentor. Whatever career stage you're at, the support and guidance of those who know the territory are crucial to your success. Find a mentor who has succeeded in what you want to do and reach out to them for guidance.
Generosity is the key to success. Be prepared to both give and receive the generosity of others, and ask for help or advice when you need it without keeping score of what is given and owed.
As you build empowering social networks for yourself, be equally passionate about helping others do the same. The more people who join your network, the more valuable it becomes.
Find Your Mission
"No one becomes an astronaut by accident."
The more specific you are about what you want to achieve in life, the easier it is to accomplish it. From athletes to high-performing salespeople and CEOs, successful people know where they want to go and how to get there. Part of the strategy for success is connecting with people who can help you make progress.
Many people find themselves in jobs that they don't enjoy. Social and family pressures and expectations, and a multitude of choices, can make you fall into an unfulfilling job or career path rather than going after what you really want.
To find your true purpose in life, you first need to define your real dream without being held back by expectations from others, fears, or doubts. To explore your dreams, take some time to center yourself. Meditate, pray, spend time alone, exercise, or do something you enjoy to cultivate a clear state of mind. Imagine you had no financial or time constraints, then ask yourself: What is it that you really want to do?
Aside from this, you may also consider your strengths and your hobbies. Ask the people around you what they think you're good at, what they admire about you, and what you need to improve. This will help you to solidify your direction and evaluate what you need to work on or what skills you need to develop to get there. Once you have your desired path, it's now time for you to create an action plan to solidify your goals.
Build It Before You Need It
"Start gardening now. You won't believe the treasures to be found within your own backyard."
Many people only reach out to others when they need help. They only start trying to forge a new career when their current job is on the brink of ending or has already ended. In doing so, their interactions with others are based on need or desperation.
People with large support circles know they need to build and maintain their community long before they need it. By putting effort into growing and nurturing your network of colleagues and friends now, you will already have support systems in place and inroads to help you change jobs when you need them.
Rather than finding new job positions or workplaces, focus on creating a community and network environment that aligns with your values. The more your network expands, the more opportunities will open up for you.
When it comes to expanding your network, you may find striking up conversations with new people daunting. Many people experience anxiety when meeting new people, and there are many ways in which you can build your communication skills and self-confidence. These include finding a role model or a coach or taking a course to overcome your fears or anxieties.
Consider networking as making friends. While the image of a typical networker may conjure up insincere interactions or "schmoozing," transparency and authenticity are the real ingredients for successful relationships. When meeting new people, be open about your intentions, ambitions, and concerns. Be sincere. Connect with others emotionally and explain what you can offer them or how you can help them. Send personal emails, messages, and even holiday cards, and focus on building quality relationships over increasing numbers.
Warm-up
"Whom you meet, how you meet them, and what they think of you afterward should not be left to chance."
Preparation is the key to making a good and memorable impression when meeting with a new business contact. During this process, you need to take the time to discover who you are meeting as a person. Find out what they are passionate about, what they have achieved, and what their goals are. This will make you feel confident and comfortable about engaging with them and leave them feeling appreciated. Finding common ground through your research will lead to a deeper and more meaningful relationship.
As your network grows, you'll need a way to manage, sort, and filter all the information you acquire. This is where the art of list-making comes in. Using either a mobile app or good old-fashioned pen and paper, organize your contacts into categories that relate to your goals.
Once your contact lists are in order, you will need to prospect or reach out to someone you've never met before. If the idea of cold calling sends chills up your spine, you need to learn to master the art of turning a cold call into a warm one. Here, you will need to use the principles of credibility, value, convenience, definitiveness, and compromise. The same can be applied to emails.
When you want to contact someone in business, it's important to understand that administrative assistants, secretaries, and receptionists are the gatekeepers to an organization. And part of their job is to screen cold calls and help decision-makers avoid interruptions. Instead of considering them as barriers, view them as allies and acknowledge their importance. Treat them with respect, dignity, and compassion, and you will find the process of accessing who you want to meet with a whole lot easier.
Never Eat Alone
"A network is like a muscle – the more you work it, the bigger it gets."
To be successful at reaching out to others, you must remain active and visible. However, this doesn't need to take up hours of your time. If there are several people you want to meet, consider organizing a dinner or event that they can all join and have fun at. That way, everyone can benefit from meeting each other.
In terms of organizing business meetings, remember that they don't always have to be boring. In fact, they can even take place in informal settings. You could invite your contact to have coffee with you, join you at the gym, share a car ride, attend a special event, or have a dinner party at home. Whatever it is, make sure to match the activity to the type of relationship you're trying to build with that person. Involve others in what you do and connect people from different parts of your community.
Shared interests bring people together for a purpose and foster friendships. You'll connect with like-minded people by spending time at events and doing activities you're passionate about. To build and nurture meaningful friendships, you need to organize get-togethers based on your interests, whether that's a love of food, skydiving, or a charity project.
In today's fast-paced digital world, it's so easy to get overwhelmed by information and forget to follow up after meeting someone new. But if you really want to foster lasting relationships, you must take the time to send follow-ups to new contacts so that they remember you. Make following up a habit so that it eventually becomes automatic.
Connect With Connectors
"Acquaintances, in short, represent a source of social power, and the more acquaintances you have, the more powerful you are ."
The "six degrees of separation" theory suggests that everyone in the world is just six or fewer social connections away from each other. This is where the concept of "super connectors" comes in - these are individuals who seem to know everyone and can help bridge those connections for you. People like restaurateurs, headhunters, lobbyists, and others often fit this description.
But you don't have to know a super-connector to grow your network. Simply connecting with someone else's circle of friends and acquaintances can introduce you to new people from different social worlds. And attending conferences can also be a great way to meet like-minded individuals and expand your community. To maximize your conference experience, you need to choose the right event, set specific goals, and actively participate in conversations and networking activities.
If you're looking to build credibility and share your ideas with a wider audience, consider becoming a speaker. Joining an organization like Toastmasters International can help you develop your public speaking skills, and reaching out to event organizers in your field can open up opportunities for you to take the stage.
Learn the Art of Small Talk
"When you realize the best ice-breaker is a few words from the heart, the act of starting a conversation becomes far less daunting."
Effective communication is a skill that can be developed over time. While some people may have a natural talent for it, most individuals need to work on their language and small talk abilities in order to be considered socially magnetic. Initiating conversations with strangers can be daunting, but it's important to see these encounters as opportunities to make new friends rather than obstacles to be avoided.
There are various guidelines for making small talk, but it's important to remember that the first rule should always be to be yourself. Avoiding personal or controversial topics might lead to superficial conversations, but it's equally important to avoid disrespectful or insensitive comments. Instead, be open and honest, and show vulnerability to build real connections.
Remember that the first impression others form about you is based mainly on non-verbal communication. To be a successful communicator, you need to learn the power of non-verbal cues and signals.
In addition, people have different communication styles, and it's crucial to be sensitive to this diversity and adjust your behavior accordingly. This can be done by utilizing the Johari Window, a psychological tool that helps people develop self-awareness and understand others better.
Another key aspect of effective communication is active listening. Encourage the other person to talk about themselves and show genuine interest in what they have to say. Finally, it's important to exit conversations gracefully and plan for future discussions to continue building the connection.
Feed Your Network and Don't Stop Pinging
"When you help someone through a health issue, positively impact someone's personal wealth, or take a sincere interest in their children, you engender life-bonding loyalty."
Despite the advancements in technology, the fundamental desires of human nature remain unchanged: the need for recognition and significance.
When you understand someone else's desires, help fulfill their needs, and achieve their goals, you strengthen your bond and cultivate loyalty. While there are many ways we can offer help or kindness towards others, providing support for their health, wealth, or children gives rise to the deepest and most loyal emotional bonds.
There is a direct correlation between giving and success. You might think that you don't have time to go the extra mile for someone else when you have so much to do yourself. However, it has been proven that when we help others, we become more productive ourselves over time. The key is to learn to give while protecting your own time and maintaining your own self-interest.
Many of us don't have huge resources or personal connections with industry elites to share with others. However, we are all able to offer favors, support, connections, knowledge, and potential solutions to another person's problems. In doing so, we become indispensable. Shifting your focus from trying to be successful to take a genuine interest in how you can help someone else will, in fact, help you achieve more.
In a fast-paced world with dizzying amounts of information to process, staying in touch with people can be challenging. Relationships of all kinds need to be maintained. Make keeping in touch with your network habitual: regularly drop them a quick email or call, and keep your social media statuses up-to-date to stay in contact with those aligned with your current goals.
Connecting in the Digital Age
Social media provides a medium to connect us with people we don't know. These people at the edges of our network can be considered the fringe. You can expand your social media fringe by providing valuable professional or industry information and content to them. In doing so, you'll also reap the benefits of the knowledge they share.
Much like the flu, ideas are contagious. Through social media, we now have access to global information and the latest industry trends and innovations. Become intentional about your use of social media. Scale up your networks and curate your connections and feeds so that the information you receive will help you progress toward your goals.
Canadian astronaut Chris Hadfield caught the attention of news headlines, social media followers, and even David Bowie when he tweeted his personal experiences of life on a space station. While slick photos and videography can be beneficial, social feeds that share personal stories are more relatable and inspire trust and confidence.
When posting on your social media accounts, learn to apply the same values that you would when forming in-person relationships. Make sure to develop an authentic voice combined with generosity, vulnerability, accountability, and candor (GVAC). This equates to trust.
Social media feeds move so fast that there is just a small window of time to grab someone's attention before the next post comes along. Ensure that you do your content justice by creating headlines and email headers that convey its value, grab attention, provide utility or intrigue, and target the right audience.
If you find creating original, engaging content challenging, learn to harness the power of co-creation. Share, collaborate, and exchange ideas with others so that you can benefit from each other's input and experience.
So many of us draw a firm line between our personal and professional lives and relationships. Yet, your family and friends might really like to know more about your work life and can also be a great source of support and advice. So, try blending your personal and professional messaging and see how it works for you. Don't be afraid to make mistakes. Find what works and what doesn't, remain accountable, and people will trust you for your experience and honesty.
Stand Out From the Crowd
"The world is your stage. Your message is your 'play.' The character you portray is your brand. Look the part; live the part."
In the past, advertising was limited only to traditional channels such as print or billboards, and marketers simply awaited results. Today, digital advertising has transformed the way marketers interact with consumers, with a focus on community building and interactivity.
To stand out, you need to be interesting—someone that people want to talk to and hire and someone that will be remembered. Stay current with current affairs, have diverse interests, and differentiate yourself by becoming an expert with a unique perspective.
Business leaders and successful entrepreneurs stay abreast of the latest innovations and technological advancements in their industry. To develop your knowledge and expertise, read as much as you can. This can include books, magazines, blogs, or listening to audio tapes. Take courses to continue your development both professionally and personally.
The most successful leaders engage and mobilize people through compelling storytelling. Once you have developed your expertise and niche perspective, learn to convey your ideas through simple and relatable stories to inspire people into action.
To stand out amongst the sea of online information and social media profiles, you need to create your own brand based on your personal message, defined by your content, expertise, and values.
A strong personal brand will help you build credibility and trust, establish your value, and attract much greater career opportunities. Use your personal style, including your clothing, appearance, business cards, and workspace, to reflect what you stand for.
Think Big and Remember Your Values
"If you don't promote yourself, however, graciously, no one else will."
Once you have defined your personal brand identity and content, you need to share it with the rest of the world. Sure, your personal brand will help you establish authority within your network and company, but if you want to gain wider recognition and become an authority in your industry, you need to create a public relations (PR) strategy for your brand.
Establish connections with reporters in your industry by treating them as part of your network, offering information and interviews, and helping them build contacts. Align your publicity efforts with your mission rather than solely seeking attention.
Building connections with powerful people or celebrities will, of course, significantly increase your brand's or company's awareness and credibility. Although it can be tricky to establish connections with powerful and famous people, you may find yourself in the presence of a VIP as your network grows. When this happens, show that you are sincere and trustworthy and are more interested in their mission than their fame.
While social media provides many opportunities to join social groups and communities online, people still value in-person events and gatherings to establish solid relationships. This is where starting your own club or organization comes into play. Here, you can invite anyone you'd like to meet to join.
Building a community around common interests or a cause has been a model that many businesses and organizations have used. If you don't live near many people who share your interests, you could start a group on social media and eventually run an in-person annual meeting in a convenient location.
Everyone makes mistakes and fails at some point in life. When we do, it's our friends that we turn to for support. As your network grows and you become closer to more powerful people, your own sense of power increases too. It's important not to give in to pride or arrogance and to remember the foundational values that formed the basis of your mission to begin with. Make the people around you feel involved and help them achieve their goals while you strive for yours.
Don't just read. Act.
Read comprehensive summaries and discover carefully compiled action lists for active learning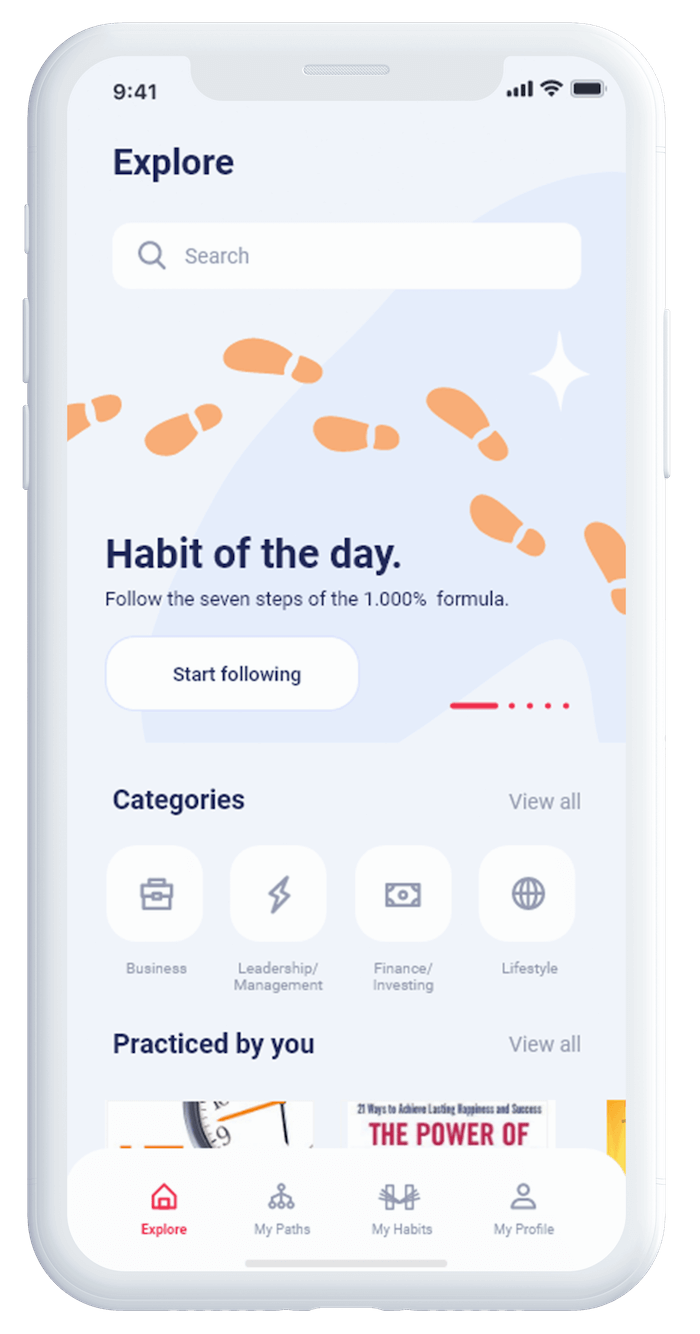 ---