Talent for Humanity: Stories of Creativity, Compassion and Courage to Inspire You on Your Journey
by Patrick Gaffney
The book talks about humanity, creativity, and compassion based on the stories of seven inspiring and courageous people: Reza, Sherry, and Bob Jason, Aliza Hava, Deeyah Khan, Yarrow Kraner, and Daniele Finzi Pasca. These are the ones who nurtured their passions and creativity and used the arts to reach out to others in need. By knowing their stories, you'll learn how to find your purpose, unique abilities, and skills you could offer to make the world a better place for all, especially the marginalized and underprivileged.
Summary Notes
Introduction
"Remember me; those eyes seem to whisper, remember I am yearning to find meaning, just like you; aching to be happy, just like you; struggling to fend off trouble and suffering, just like you."
The world we live in has around 7.8 billion people, and we are surrounded by different kinds of people all the time. While we are all unique in our own ways, there are also aspects in which we are ultimately the same. 
We may not notice it, but we all share similar fears and aspirations and tend to make the same mistakes too. We're also deeply interconnected and highly dependent on each other for everything we use, consume, or enjoy. 
Nevertheless, our societies are deeply fractured, and divisiveness is on the rise. It's as if we tend to forget that we are still all humans, regardless of religion, nationality, ethnicity, or race, at the end of the day. This makes the world filled with injustice, inequality, oppression, and misery. 
While we've made tremendous progress over the centuries, have raised many people out of poverty, and the world has gotten safer and better, we still have a lot of things to do. We have a collective responsibility to relieve the pain of those still suffering, regardless of who we are. 
The seven stories that follow are all about the people who courageously opened their eyes in the face of injustice. They are those who dared to believe in themselves and reached out to those in need. The stories show the redemptive quality of arts and the meaning that many people seek, which is found in the act of helping others.
Seven Voyages
"I have a dream that all human beings, each and everyone, will play an active part in the evolution of humanity. Let's all take action; let's dream of seed, one that grows into a vast tree of peace."
Reza was born in Tabriz, a city in Iran. Even from a young age, he already had a curious nature.  Back home, his father held meetings with various intellectuals, poets, and knowledgeable men. They read poetry and spent time in a sort of informal literary salon. This was the first of his voyages, access to the room of knowledge where he would sit quietly, mesmerized by what he heard and witnessed. This helped Reza cultivate a deep curiosity about the world.
One of the most marking events from his childhood that would define the direction he took in life was his third voyage, in which he saw a poor old woman trying to sell fish in the port of the city. She collected fish dropped by fishermen and sold it for a few pennies, even to those poorer than her. While the old woman was doing a good deed, the policemen still preyed on her by demanding half of her earnings in exchange for her stay in the port. 
Reza was moved by her story, so he decided to publish it in their school newspaper along with her picture. Surprisingly, the story became popular, but the reactions of those around him were unexpected: he got scolded by their school principal along with a policeman. His father, however, gave him the encouragement he needed but also warned him to be careful not to be arrested. 
Unfortunately, his interest in capturing these unjust stories would soon land him in prison. As a young university student, he captured the tyranny of the Pahlavi dynasty by giving voice to the struggles of the common people through photos. He posted his pictures around the city of Tehran, making him the target of the oppressive authorities. He was imprisoned for two and a half years along with fellow intellectuals and politicians. Resistance in the name of freedom of conscience in prison trials was his fourth voyage.  
The later voyages implied his future career as a photojournalist. He traveled to Kurdistan to expose the clerical regime's atrocities against the Kurdish people. He captured through his photos the consequences of government bombing and shelling, the struggles of the wounded and the dead. Several thousand photos were published far and wide. 
He then ventured into the first line of the war against Iraq, capturing significant moments with his camera. His efforts got the attention of the international press, leading to his exile to Paris, where he would find his love and a renewed motivation to continue exposing the world's injustice, devoting himself to humanitarian action.
Making the World a Better Place Through the Arts
"What if he had found that piano first before he found guns and gangs ."
Sherry Jason first encountered arts when she was six years old, being enrolled in private ballet lessons. The lessons were given free to her, but in exchange, her father had to take publicity photos for the ballet teacher. 
Because her parents couldn't afford to pay for her to go every day, she was only able to go to ballet lessons every other day. This frustrated her; she believed that no one should be deprived of dancing or art classes because of a lack of money.
So by the age of 11, she set up her own ballet class in their garage. She would teach ballet lessons to her neighborhood girls in exchange for a very small amount of money. And even if someone couldn't pay her, they can still attend because she also offers scholarships! She believed arts should be available to anyone no matter what, and so she started acting according to her beliefs from an early age. 
Later on, she became a lawyer in the Los Angeles County Public Defender's office. Because she only started working there, she had to take juvenile client cases. This made her see how many teens have broken lives. 
One day, she heard a young man skillfully playing the piano while walking through the rooms in prison. This inspired her to create "City Hearts: Lods Say Yes to the Arts," which aims to give children from disadvantaged backgrounds a chance to be on the right track by offering free art and dance lessons. 
In the program, a group of sixty kids, broken into three groups, was taught by Sherry herself. Her husband was also very invested in this project, as he also understood how and why kids would get into prison simply because of difficult circumstances. Since these kids had no positive role models and the resources to cultivate their potential, they would end up doing something bad that would lead to imprisonment. 
The project was initially fully funded by Sherry and Bob Jason, her husband. But it soon expanded into a non-profit organization with several programs sponsored by donations. One of the programs was "Sentenced to the Stage," which provided older kids on probation an opportunity to engage with arts. 
Tommy, one of the kids on probation, became part of the theater program, reading and performing Shakespeare. While he didn't become an actor, he discovered he was a prodigy in maths, which later led to a job in the IT department of one of the world's largest management consulting firms. Sherry and Bob's project would keep evolving, giving kids with difficult circumstances a better chance of expressing and creating ambitions for themselves.
Rise
"It seems that our world today may be dying of a broken heart. But if people's hearts can heal, perhaps then true peace will be really possible."
Aliza Hava grew up in New Jersey and started writing songs when she was nine years old. The songs were about ending violence in families, kids living on the streets, and changing the world for the better. These were all inspired by her life situation, which was tough initially; at home, her parents were always fighting while she was also being bullied at school for being overweight. Her teacher, which was supposed to protect her, completely ignored her situation. 
Since then, Aliza developed an issue with authority and was deeply frustrated with the injustice of her world. So writing songs became her way of dealing with it. Luckily at the age of 10, she was taken by some family friends for nine months, which made her a lot happier. 
Things also went better at her school, as she began to develop a close relationship with her music teacher. This teacher treated his students like his dearest friends and taught them about modern songs, Dr. Martin Luther King Jr., and the civil rights movements. He even organized a show highlighting various aspects of the protests in the 1960s, including stories from Dr. King's life and his assassination. 
These kinds of sessions, however, had soon come to an end after the school decided to fire the music teacher, which infuriated Aliza and some of her classmates. They then organized a protest against the school's decision.  This was the first time Aliza would rebel, and it marked the start of a shift in her life. 
When she was 15, she bought herself a guitar, and then one day, while playing it, a music professional heard her. He then offered her number, asking her to call him if she was ready. That time, she knew she had a gift for music. 
But the days that followed didn't go well for Aliza; issues at their home escalated, and she lost interest in school. She became depressed and even thought about taking her own life, but at that time, she suddenly felt that she was destined for something more. It was also at that moment she read the quote "Be here now." by Ram Dass just as exactly she needed it. This made her decide to continue living her life. 
Soon enough, she encountered several spiritual experiences that made her love life again and feel compassion for other human beings. She then decided to use her gift for good and organized a concert for school that went very well. This was followed by a series of all other concerts for a cause, including one to raise money for a girl with Leukemia and another titled "Harmony in the Holy Land." The purpose of the latter event was to spread peace and to bring together Muslims, Christians, and Jews through prayer and music in Jerusalem. The concert was a resounding success, and it marked the beginning of Aliza's efforts to bring people together through music, making her childhood dream of changing the world a reality.
In My Own Voice
"The one connecting thread has been about personal freedom, whether it's to sing, to love, to study, to work, and to live according to the call of our own heart, to realize our potential in the world, or to raise our voices without fear."
Deeyah Khan grew up in Norway with a deep sense of alienation. She was different from the rest of the kids in how she looked since her father came from Pakistan and her mother was an Afghan Pashtun.
She discovered from a young age that she had a talent for singing. When her father heard her one day, he decided to help her polish her skills and even get her to enroll in a music class. He established a strict routine for her, and it helped her secure a place as a student for a respected music teacher from Norway. 
Aside from music and discipline, her father, who was a rebel, also taught her liberal values and to have an open mind. This was further reinforced by her mother's refusal to agree to an arranged marriage her parents had set up for her.
When Deeyah began singing in events and concerts, later on, more and more attention was drawn to her. She became the face of the positive effects of immigration, but not everyone liked her. In fact, some members of the Muslim community even tried to convince her father to make her quit. Despite her father's steadfast refusal of their demands, people continued to harass her. 
One day while she was having a concert, a fire broke out in her audience, and a toxic chemical was sprayed on her eyes. Despite it, she still continued the concert in pain and tears. She was also threatened with a knife and subjected to a failed abduction attempt.
Due to the increasing amount of pressure on her and her family, she decided to just leave the country for London. There, she produced more commercially oriented music, but her career didn't last that long after receiving several threats and hates for dancing with a black person in a music video she was part of. Since she no longer felt safe in this country, she had to leave once again. 
Her next destination was in Atlanta, Georgia, where she spent two years doing mostly nothing. At some point in her life here, she suddenly realized that she couldn't hide anymore. She received letters from people who felt encouraged and inspired by her songs, women who were abused, and men who were beaten up due to their sexual orientation.
Later on, she started working with NGOs helping marginalized kids and women who suffered abuse. She created Sisterhood, a website where Muslim women could send their art, and also started the AVA foundation, which provided a space for marginalized children to express themselves. 
Her biggest creation was arguably the documentary Banaz: A love story about a woman forced into marriage in the UK that chooses to flee and stay with another man, only to be later killed by her family. Deeyah fought for the rights of women, and she gave voice to those who were abused, marginalized, and forgotten.
Connecting the Dots
"Every human being has the right to find his or her unique gift and the responsibility to share it with the world."
Yarrow Kraner lived the first moments of his childhood in a violent Denver ghetto where his mom would even be afraid to go outside in broad daylight. One day, her mother realized she couldn't put up with it anymore, so she took Yarrow and moved to a close friend living there for a couple of months. 
His mother worked multiple jobs to pay for her college, thinking that would be the only way out of their situation. They moved to Minneapolis, where she earned her college degree, and later to Bozeman, Montana, a grad school famous for its arts programs. Since then, money was always their problem, which also caused them to live in the worst places: decrypt apartments, tiny run-down houses in ghettos, and even in those that were supposed to be bulldozed.
Fortunately, some of his mother's friends were kind enough to let them live in summerhouses or cabins they weren't using at that particular moment. Yarrow, who felt like they were just on an adventure, enjoyed this time with his mother despite their difficult circumstances. At the same time, he also deeply felt the need for a masculine figure, and so his mother enrolled him in a program called "Big Brother." Here, he met his first mentor and friend, who taught him what it meant to be a man.
Over the years, Yarrow started to manifest his artistic side, writing poetry, drawing pictures, and making sculptures from whatever he could find. When his mother gave him a camera on his eighth birthday, he started to observe the world in a new way. However, this all stopped when they moved to Rocky Boy Indian Reservation in northeastern Montana. 
There, he was bullied and beaten for being the only white kid at school. This event made him lose his artistic side and instead focus mainly on how to survive each day. Soon enough, he decided to stand up for himself and started fighting back against the bullies, which helped him get through his high school life. 
When he went to college, he got a football and wrestling scholarship, but he had to turn them down because his heart wasn't in it. He also met his bullies back then, but instead of repaying their wrongdoings, he chose to forgive them. He didn't want to feed the circle of hatred that made those people hate him.
He then decided to pursue a degree in film production and had already started his own company making commercials for local businesses, even before graduating. He moved to Los Angeles, hoping to make a breakthrough, which eventually happened at a party where he met a Cezch composer who taught deaf kids how to play musical instruments and later a scientist working on repairing the ozone layer. He was looking to meet incredible people, and then one after another, he started meeting them in various places. 
This made him realize that he could connect brilliant people together. As a result, he created "Superdudes." The purpose of this company was to find people who were doing inspiring things, bring them together so that they could support each other, and inspire young people coming up. They started visiting children's hospitals, charities, and school districts and then asking kids, "What makes you Super?"  
Soon enough, they started working with celebrities, national charities, and children's hospitals to help kids achieve their potential and improve their communities. Later, they sold the company to Fox Studies and created a non-profit global network called HATCH. 
HATCH aims to nurture and "curate" creative thought leaders in all kinds of areas, including film, music, design, and photography. Then, match them with cross-disciplinary peers chosen for their skills and passions. Through HATCH, various initiatives were born to help the world, such as new solutions for disaster-relief housing or developing tools for teaching science through creative designs. Since its creation, HATCH has connected over five hundred mentors with approximately five thousand students.
On Tastes, the Journey, and Clowning
"There is no inner path without guidance. And there is no journey."
Danielle Finzi Pasca grew up in a loving family where table manners are highly essential. Knowing how to behave at the table, serving the wine to the guest first, waiting until everyone was together before taking the first bite, and treating the food with delicacy while enjoying its flavors were something that truly helped her later in life. This kind of dedication was also exemplified by his father, who drove 300 kilometers to buy a special sweet bread during the Eastern period, only to eat it with his whole family.
Danielle created stage performances as a clown, and in his twenties, he decided to go to India to perform for marginalized children. Here, he saw how many people, including kids, were suffering and dying on the streets. So instead of performing as a clown, he decided to stay for the people who needed someone beside them. 
One event there that truly marked his life was the death of Sunil, a boy who was supposed to die given his health conditions but managed to survive for 24 more days than was expected. This taught Danielle a lesson about resilience and the will to live. As a sign of respect to the kid, he soon named his theatre company Sunil.
After returning from India, Danielle and his friends decided to establish a "new theatrical grammar". This means introducing the mystery, telling stories to heal and make the fear go away, training themselves to look the audience right in the eye, keeping an attentive awareness of everything going on round about, and staying aware of the effect of their actions.
He also had a mystical experience through a session with a shaman. He used all his experiences and dreams to fuel his creativity and create the best theatrical performances possible. He paid attention to every performance to ensure that his actions didn't simply become automatic movements but that every movement was intentional and purposeful.
Danielle dazzled his audience and guided them through his clowning into a trance, placing them inside the story he and the actors were telling about. He let his creativity become his compass, providing the building blocks for the creation of stories that would banish fear and let us embrace what it means to be human.
Putting Our Heart into the World
"By fusing creativity and compassion, we can step beyond the ordinary, transcend narrow self-interest, teach ourselves."
We, as humans, are all inexplicably linked in this world. In his book "Man's Search for Meaning," Viktor Frankl reminded us that being human constantly points to someone or something other than oneself. The more one forgets himself by serving a cause or loving another, the more human he becomes.
When we think about others, our thoughts become more spacious because we make more room for other people to fit in. Furthermore, research has shown that compassion makes us less stressed, healthier, and more successful in our personal and work relationships. This also explains why volunteering, for example, has been proven to improve morale, self-worth, positive feelings, and well-being and decrease symptoms of depression. 
To find our own freedom and happiness is often not to pursue our own individual goals directly but to free other people from the fear and pain that prevents them from being truly happy. Being self-centered, on the other hand, will only make us put the blame on others and dodge responsibility. It turns the tiniest misfortune into a catastrophe.
All the great people from these chapters harnessed their uniqueness and compassion to make great contributions to humanity. This is something you can do, too, because you're also very capable of finding and sharing your uniqueness with the world; all you need to do is take that first step forward.
Don't just read. Act.
Read comprehensive summaries and discover carefully compiled action lists for active learning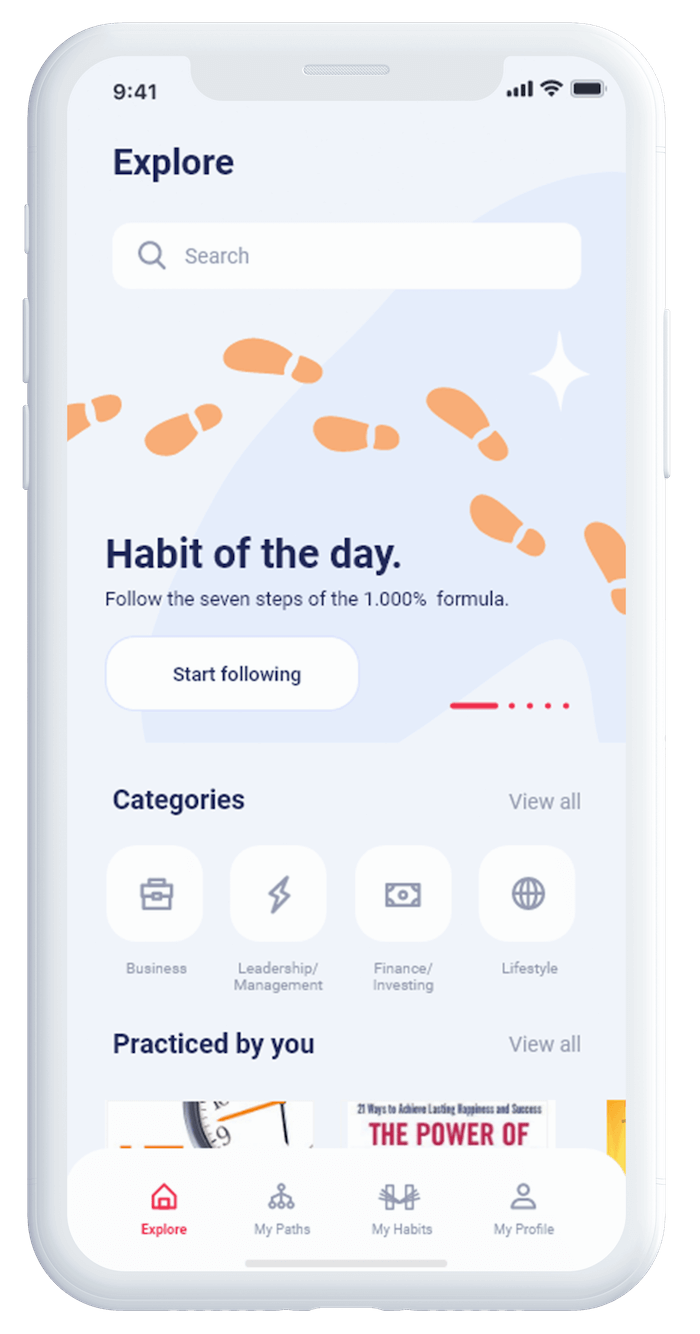 ---