The Monk Who Sold His Ferrari: A Fable About Fulfilling Your Dreams and Reaching Your Destiny
by Robin S. Sharma
This book provides a step-by-step approach towards living a balanced and fulfilled life. In this business fable, Julian Mantle retells the story of his journey towards a life of balance, purpose and wholeness.
Summary Notes
Master your Mind
"The secret of happiness is simple: find out what you truly love to do and then direct all of your energy towards doing it."
Our minds are the garden of our souls. It is where we cultivate thoughts that can propel us to live a fulfilling life. The quality of our lives is determined by the quality of our thoughts. What thoughts are we regularly entertaining? How much time do we spend thinking about the busyness of the day-to-day? The things we cannot do? Or do we focus on the good things that happened to us? 
Fill the garden of your mind with seeds of positivity and opportunities. Learn new skills. Pursue activities that can help you achieve your dreams. Think positive thoughts. Be your own best friend. If you encounter problems and frustration, remember that there are no mistakes - only lessons. Reframe your mind to look at the lesson you can learn in any negative situation. Everything we experience is an opportunity for personal expansion and growth. 
Cultivate your mind and watch it blossom beyond your expectations.
Follow Your Purpose
"Stay focused on your purpose. The Universe will take care of everything else."
The purpose of life is a life of purpose. We are unique individuals with different dreams and experiences. Discovering your purpose will bring lasting fulfillment to your life. 
There are four aspects to life - emotional, material, physical, and spiritual. It is our responsibility to know what we want in each of these aspects. When we define our priorities and goals, we can work towards them with more clarity. 
We have all been granted a unique set of gifts and talents that will readily allow us to realize our purpose. The key is to discover what those gifts and talents are and in doing so, we discover our purpose.
Practice Kaizen
"The Universe favors the brave. When you resolve to lift your life to its highest level, the strength of your soul will guide you to a magical place with magnificent treasures."
Change is the most powerful force in our society today. Most people fear it, the wise embrace it. 
Kaizen is a Japanese word that means constant and never-ending improvement. For us to be truly successful in the work that we do, we must start from within; and that includes being aware of the things that we need to consistently improve on.
Practicing kaizen is an integrated and holistic endeavor. It involves looking for areas of improvement in our mind, body, heart, and soul - the four domains of life. We need to keep an energetic body to do the work that we do, a clear mind to remain focused on our goals, an open heart to serve and a nourished soul to manage the stress we encounter on the day-to-day. 
Kaizen gives us constant awareness of what works and what doesn't in terms of these four domains, helping us identify the changes that we need to make.
Live with Discipline
"Wage war against the weaker thoughts that have crept into the palace of your mind. They will see that they are unwanted and leave like unwelcome visitors."
Discipline is built by consistently performing small acts of courage. The more you nurture the embryo of self-discipline, the more it will mature. 
All of us are created with willpower. We have the power to fulfill our dreams and work towards our goals. While there may be setbacks in life, we can brave the storm and turn things around. Willpower is the essential virtue of a fully actualized life. It is through discipline that we exercise this power, and that goes by simply showing up and working on the things that we decided to do.
Time is your most precious commodity. It is non-renewable as it only passes by once. That's why it is very important to be aware of where you spend your time.
We live at a time and age wherein people and activities demand a lot with our time. If not managed effectively, it can affect our relationships, rest, and self-esteem. Focus your time on the things that matter and aim to achieve balance and simplicity in your life.
Selflessly Serve Others
"The most noble thing you can do is to give to others. Start focusing on your higher purpose."
We live not only for ourselves but also for others. The quality of your life comes down to the quality of your contributions. It helps us view this life not just as an individual contributor but a part of a collective whole. 
We create our lifework - the work that we do - for a purpose. We want to make this world a better place to live in. When you're creating art, it is to make this world more beautiful. When you write books, it is to share the wonderful experiences you've had with the world. Whatever work you do, it is meant to serve and add value to others.
When we work to improve the lives of others, we indirectly elevate our own lives in the process. It is in giving that we receive more. The more we share our gifts and talents, the more experience and wisdom we gain; and that helps us in our own personal growth.
Embrace the Present
"We are all here for some special reason. Stop being a prisoner of your past. Become the architect of your future."
The past has already gone, the future is yet to come. Sometimes, we get too hung up on what happened in the past that it paralyzes us in the face of change. We are often anxious about what the future is going to look like. 
Live in the present. It is the only time that we have. Spend time with your loved ones, work towards your goals, live the life that you want. Savor the journey of the present time and live each day as if it's your last.
Don't just read. Act.
Read comprehensive summaries and discover carefully compiled action lists for active learning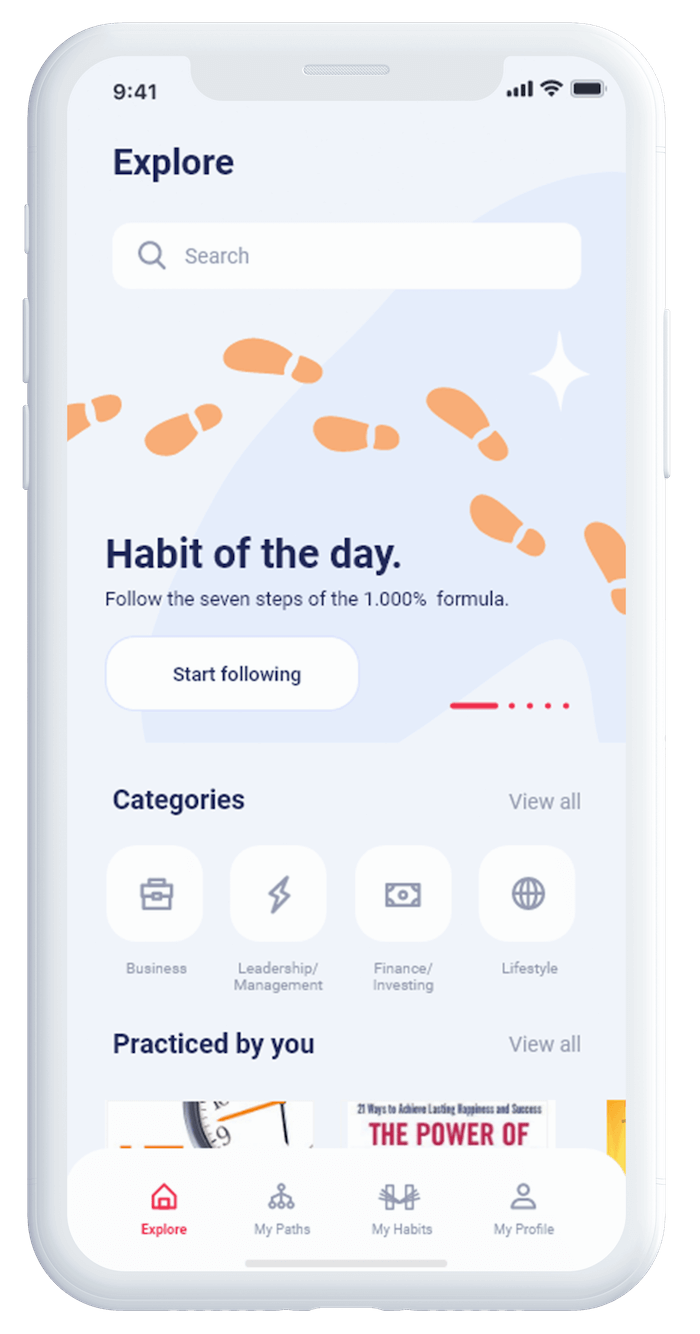 Our site saves small pieces of text information (cookies) on your device in order to deliver better content and for statistical purposes. You can disable the usage of cookies by changing the settings of your browser. By browsing our website without changing the browser settings you grant us permission to store that information on your device.
---