The must-read books of 2020
Books on this list have been appreciated by thousands of people—they became viral, received high ratings, and to put it simply, people all over the world fell in love with them.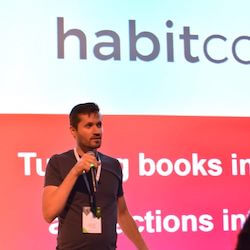 As we do every year, we've analyzed a hundred of the most popular and highly-rated books released last year to create this list of the very best ones. Books on this list have been appreciated by thousands of people—they became viral, received high ratings, and to put it simply, people all over the world fell in love with them.
Each book is unique in its own way. Which is an important selling point because books that repeat common knowledge generally don't become popular. And the most exciting thing about this list is that each one of these books will help you improve as a person in terms of happiness, health, productivity, soft skills, and more.
Let's get straight to the list.
Goodreads rating: 4.21
Can small adjustments in your breathing improve your athletic performance, rejuvenate your internal organs, halt snoring, cure asthma, or even eliminate autoimmune disease? It should not be possible, and yet, science shows it is. And in 2020, our breathing became altered by constant mask wearing; therefore, this book is even more important than before!
Goodreads rating: 4.0
This is a very actionable book that provides you with strategies to make better decisions. Should I buy these flowers or those? What should I do with my life? All types of questions, big ones and small ones, can be easily answered through the use of the methods discussed in this book.
Goodreads rating: 4.35
It's not about doing more or less. It's about doing what matters to you. That's the Lazy Genius way. Kendra selected thirteen principles that will guide you down the path to becoming a Lazy Genius and moving you towards getting what you desire.
Goodreads rating: 4.28
The universe had its beginning with the Big Bang. Billions of years from now, we may easily travel to distant galaxies, colonize tons of planets, and maybe these future humans will be barely recognizable when compared to the humans of today. But regardless of how far humanity advances, the end of the universe is inevitable. This book offers five different end-of-the-world scenarios, each more humorous than the last.
Goodreads rating: 4.13
We live in a world where almost everyone is connected through social media. But in many ways, this connection isn't real. Everyone is talking, but no one is really listening. This lack of true connection makes us feel lonely and isolated.
How can we reverse this trend? With the help of psychology, neuroscience, and the sociology of listening, we can work to understand why we are not listening and, ultimately, improve our listening skills.
Goodreads rating: 4.21
Whether you like it or not, climate change is impacting our world. How we choose to address it in the next 30 years will determine the environment that our children will inhabit. This book discusses two different scenarios. The first scenario describes a carbon-neutral world, and the second explains what will occur if we fail to meet the Paris climate targets.
Climate change depends mostly on our governments and big corporations, but every single person on the planet also has a role to play. Discover your role!
Goodreads rating: 4.18
Thanks to this book, Jim Kwik became a celebrity to many people. This book has plenty of strategies and shortcuts to supercharge your brain. It's very actionable (which we love here at Mentorist!). Check out our summary and the action list for more details. We highly recommend applying knowledge from this book, and with our action list, it's easy to do so!
Goodreads rating: 4.14
B.J. Fogg is a well-known habit researcher. His name appears in almost all habit-related books, and it's very exciting that he finally has a bestseller in the field of habit research. B.J. Fogg has coached thousands of people to lose weight, de-stress, sleep better, or achieve any goal of their choice. This makes him one of the best specialists in the area.
To get what we want, we need specific strategies. And this book provides some excellent ones.
And if you're interested in habits, we also recommend another book on this subject, Atomic Habits, which is the most popular self-help book of 2020.
Goodreads rating: 4.26
As the book title says, it's not a diet book. It's a book of transformation. It's a book that will explain why you dress in black, why you avoid gyms, and why your confidence is at an all-time low. This book will direct you to fix your bad habits, lose fat, gain confidence, and become the best possible version of yourself. Sounds exciting, doesn't it?
Many of you probably know Dan Heath from the book Made to Stick. It's one of my favorite books, so I'm very happy that another of his books has made it onto one of my top 10 lists.
Very often in life, we stay constantly busy dealing with things as they happen—we are stuck downstream. And many of us are never able to make our way upstream to fix the systems that caused these problems. This book will help you understand what's really happening and help you to switch your time and attention upstream.

Do something with those books!
Just a quick reminder that reading is only potential power. The real power comes from action. The real power comes from applying knowledge from books. Therefore, I encourage you to use our app: Mentorist. Mentorist will guide you through the steps you must take to implement advice from the best self-help books.