Mentorist has closed its bridge round of funding - Press Release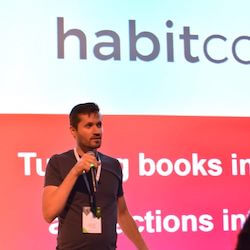 Mentorist, a mobile application for implementing knowledge from self-development books, acquired investments from five business angels and the CofounderZone investment fund.
Mentorist was established in 2018 to make the journey of personal development a little simpler. With actionable summaries of business and self-development books, it fosters internal transformation and self-reflection. It goes beyond reading - it's about taking action. Right now, you can find over 300 ultra-actionable book summaries in English in the app, including "Atomic Habits" by James Clear and "The Subtle Art of Not Giving a F*" by Mark Manson. Audio versions are also added successively.
"Knowledge is one thing, acting on such knowledge is another thing," said Mentorist's CEO, Greg Świerad. "We as a team have one goal: to be the catalyst for transformation in people's lives. To help them take the first step and start working on things that are important to them. We believe you only learn by doing and are always trying new things to improve both ourselves and Mentorist. "
Greg's idea convinced a serial investor from Germany Andreas Mihalovits. Investors from the previous round co-invested as well, such as Bartosz Dobrzynski (long-term head of marketing at Play), Jakub Miler (Senior Executive at InnoEnergy), and Przemysław Janiszewski (Proxy of the Management Board - Green Building, Unibep SA), who decided to support its further development.
Bartosz Dobrzyński, a business angel and member of the COBIN Angels club said: "I invested in Mentorist for three reasons. First of all, it accurately meets the needs of many people who want to develop, or change something in their lives. Secondly, it is developed as a global product in English from the very beginning. Third, it has a determined and efficient founder and entrepreneur who strongly believes in its product. I am convinced that there are great prospects for the Mentorist. "
Currently, the application is used by 40,000 active users, there are over 800 new users every day. The aim of the founders for the coming months is therefore to increase the pace of growth. Thanks to the investment, they will be able to start marketing activities on a much larger scale and adapt the product to the business market.
At the same time, it is crucial to expand the scope of the offered knowledge and elements of gamification that will facilitate the acquisition of knowledge and its implementation. The creators of Mentorist believe that such a product will soon be interested in large companies that want to focus on human resources development.
—
CofounderZone is a platform connecting experienced entrepreneurs with start-ups. The fund works closely with the Business Angels network it has created, which provides added value through an individual approach to structuring and financing transactions on the private market and uses the substantive potential, contacts, and experience of its members. It includes business owners and corporate managers who want to invest their time and capital in developing innovative companies.