BooksInAction 4.0 - Release Notes
We have decided to make two separate applications. Each one will serve a single purpose. This will bring simplicity and clarity into each app.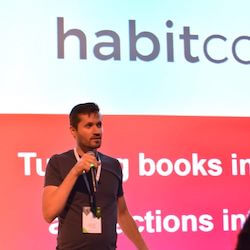 After releasing the last version of SkillMentor, we realized something: we were trying to cram two mobile applications into one. We were going in two different directions, and this caused us to lose clarity on our goals for the app. To address this, we have decided to make two separate applications. Each one will serve a single purpose. This will bring simplicity and clarity into each app. And, more importantly, it will leave room for additional features such as badges or personal growth progress charts.
Our Two Apps
BooksInAction - This app focuses on reading book summaries and then taking action. Learn rapidly and put into action the parts of the books that resonate with you most. In the future, it will include audio summaries as well.
SkillMentor - This app will have clear developmental paths for people who have goals but need guidance to achieve them. It is completely based on self-help books and the knowledge gathered from them. We have created a structure for this knowledge that is similar to taking a college class. We understand what works, and we want to use this understanding to help you achieve your goals.
We decided that the old app (formerly known as SkillMentor) will be renamed BooksInAction. And a new app, SkillMentor, will be released soon.
Simplification
In BooksInAction 4.0, certain functionalities will be removed. They more clearly align with the purpose of SkillMentor, so they will be placed in that application instead. From BooksInAction we are removing:
Growth pathways
Collections
Recommended skills/habits
New Features
There are a ton of new elements to explore:
Collect points for completing activities and earn your way to new user levels
Visualize your reading progress for all summaries and actions
Vote for the next book or app
Explanation videos (experimental)
Earn badges (experimental) - Currently, there are 18 badges that you can earn
Curate a list of your favorite books
Also, we added two highly requested features:
The ability to see which chapters and books have been read, and easily jump to a half-finished book.
The ability to set push notifications with longer intervals. For example, there is now a weekly reminder option.
Some of these features are rolling out slowly to ensure they meet our expectations. So you may experience some app changes in the near future.
Less Is More
Our work to simplify the app was not only about a simplification of the features. We all know that reading too much and setting expectations that are too high can trigger us to feel overwhelmed. And this feeling can cause you to feel less motivated and lower your willpower.
Therefore, we added a few limitations to the app to help you focus on what's important, and ensure you don't bite off more than you can chew.
One Summary a Day
People who installed the app before the 4.0 version release will be grandfathered in. However, new users will be limited to one summary per day. Our summaries are very detailed, and they contain a lot of condensed knowledge. It makes sense to take the time to think about and digest the ideas from one book before reading another summary.
A Limited Daily Focus List
The Daily Focus list is meant to be a list of elements that are truly important to you. You should want to actively work on each one. It shouldn't be a collection of your favorite quotes. Such collections become messy and overwhelming, and people don't come back to them anyway. Instead, we want Daily Focus to be something that you look at every single day. It should push you to acquire these habits, strategies, or principles.
At the very beginning, you can have four elements on your Daily Focus list. For each additional level you gain, you can add one more element.
More Books
Lately, we sped up our production of book summaries. And we want to add even more of them. Although we already have 1,500 single actions/habits/principles that you can acquire, there are even more important areas of personal growth that we haven't covered yet! Two book summaries that we added recently are:
The Way of the Superior Man
The Millionaire Next Door
Final Words
This is the first time that we have made so many changes inside the app simultaneously. And it's also the first time that we are removing some elements our users might enjoy. We apologize for the inconvenience. Please stay patient, and we will reward you. When we release the new SkillMentor, you will get a free Pro account for a limited time.